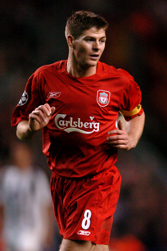 Milan coach Carlo Ancelotti has revealed he is interested in signing Steven Gerrard, with the Liverpool captain admitting he will discuss his future after the Champions League final.
Gerrard's future at Anfield has been the subject of intense speculation for the past 12 months, with Premiership champions Chelsea expected to renew their interest in the midfielder.
But Ancelotti, coach of Liverpool's Champions League opponents Milan, has confirmed that he is an admirer of the England international.
"Steven Gerrard is undoubtedly one of the best midfield players in the world," said Ancelotti.
"Of course any top club would want him in their side.
"I like him very much, he is a wonderful player. Right now he is a Liverpool player and I am not going to upset Liverpool by talking any more about him.
"But it will be different if he decides in the summer that he wants to leave Liverpool."
Gerrard, though, is refusing to allow his focus to become distracted from vanquishing Milan in Istanbul on Wednesday and plans discussions about his future after the final.
"I've said it before, and I repeat it, we will talk about my future after May 25," Gerrard told reporters.
"Once back from Istanbul I will sit around a table with coach Rafa Benitez and Liverpool's chief executive Rick Parry. Then you will know.
"Now, the only thing that counts is the final with Milan."
Gerrard aditted he is relishing the prospect of facing the team, he describes as the best in Europe.
"It will be a do-or-die night," he added. "The stakes are really high.
"Ever since Gerard Houllier made me captain I have dreamed of lifting a trophy for Liverpool and this time it is the greatest one.
"In my opinion Milan are the best European team but, at this point, we can win.
"It will be a really close match. We are preparing different options. It's easy to say 'let's attack' but, against Milan, putting too much on attack means taking a big risk."