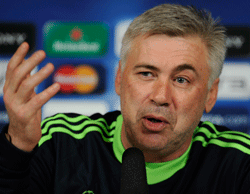 Gavin Beech has a 3/1 tip for tonight's huge game between Arsenal and Manchester City
Chelsea boss Carlo Ancelotti has admitted he is "lucky" to still be in charge after his team's poor run of form.
The Premier League champions have won one of their last eight league games and have dropped to fifth in the table.
"I know that a lot of coaches would have been sacked for these results," said the Italian. "I am a lucky man.
"In a restaurant you pay the bill when you've finished eating. At the end of the season the club can judge my job."
The Chelsea boss has hinted that he will be strengthening his squad in the January transfer window, but he is still confident his current players can win the title.
"We are not desperate," added Ancelotti. "Everything is OK. We are able to come back for the title also without any new players.
"When the Champions League comes back we need to have a squad without injury. It is important that Alex comes back fit to play.
"In February when the Champions League comes back we want to be in the FA Cup and the Premier League [title race], every game will be important so we need to have a squad fit and without injury."
The Chelsea boss has experimented with youngsters Jeffrey Bruma, 19, Gael Kakuta, 19, and Josh McEachran, 17 this season, but Ancelotti denies that this is the reason for Chelsea's loss of form.
"Last year we decided to put more young players in the team and to manage the club and the squad better," said Ancelotti, whose only major signing last summer was midfielder Ramires from Benfica. "But this is not the reason that we are not doing well.
"They are in the squad because we have trust but they are young," explained the Italian. "But we don't want to put too much responsibility on them.
"We lost some confidence in some games, like against Sunderland. But the biggest game we lost confidence in was against Birmingham because we played one of our best games of the season and lost.
"It was not easy to move on from that because when you lose when you play badly it is easy to manage. But it's difficult to manage when you play at your best and you lose."
Gavin Beech has a 3/1 tip for tonight's huge game between Arsenal and Manchester City
Make sure you don't miss any of the last news and articles from World Soccer. Subscribe to World Soccer today and save up to 33%