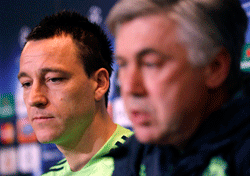 See the best odds on every Europa League match tonight in our dedicated betting centre…
Manager Carlo Ancelotti has questioned the courage of the referee after Chelsea's 1-0 Champions League quarter-final first-leg defeat by Manchester United.
Ancelotti said it was "clear" Patrice Evra fouled Ramires late in the game but Alberto Undiano Mallenco waved play on.
"It's not easy to give the penalty in the last minute," the Blues boss said.
"You need to have personality, courage and character. Not always do referees have these kind of skills."
Ramires was through on goal when Evra wrapped his legs around the midfielder and brought him down inside the box.
The Spanish referee was confronted by Ancelotti and several Chelsea players after the final whistle.
"It was clear. For everyone. Everyone knows it was clear," Italian Ancelotti added.
"I'm disappointed but this is the result. Not just the referee, but the assistant was in the right position to decide that was a penalty.
"I said to the referee [after the game] that it was a penalty and he needed to whistle. He said nothing. No answer.
"The players are aggrieved. But we have to forget it and be focused for the next game. We have to try our best there."
United boss Sir Alex Ferguson suggested that if his side were fortunate with that incident, it was no more than they deserved.
"Yeah, someone said it could have been a penalty. It was the first penalty decision we've had in seven years, so we're due one," the Scot said.
"But I don't feel guilty about that at all. It was a 50-50 from where I was and I don't know what the contact situation was."
Chelsea captain John Terry appeared to feel even more strongly about the decision, but was restrained due to the fear of reprisal from UEFA.
"I think the most frustrating thing for the players is that we can't come out here and be honest about it. We would face possible bans," Terry stated.
"We're seeing players receiving bans left, right and centre for speaking honestly after games.
"You guys [the media] lose out, the players can't be honest and we end up walking on eggshells.
"Unfortunately, I can't say more about it but it was a clear penalty."

See the best odds on every Europa League match tonight in our dedicated betting centre…