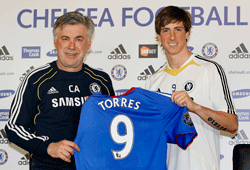 Steve McLaren has been sacked by Wolfsburg – but where will his next job be? See the best betting here…
Chelsea's sporting director Frank Arnesen has defended the signing of Fernando Torres, saying it will not stop the club producing its own talent.
Torres, 26, signed from Liverpool for a British record fee of £50m on 31 January, the same day that English forward Daniel Sturridge moved to Bolton on loan.
But Arnesen, who has been previously responsible for developing home grown players at Chelsea, said: "[Torres signing] is fantastic.
"Bringing players in doesn't close the door for the others."
The Dane, who will leave his post at the end of the season, added: "We have to make sure the other boys are good enough when the time is right.
"And for me there is no doubt about it. Torres will give them inspiration.
"If you can get Torres in, a European champion, a world champion, one of the best strikers in the world, if he comes to the club everybody is happy."
Chelsea have been criticised for spending huge sums on players rather than producing new players through the club's academy.
But Arnesen, who became sporting director in July last year to help first-team boss Carol Ancelotti, said the signing would prove beneficial for academy players too.
"David Luiz is one of the biggest talents in Europe, maybe the world, as a defender," Arnesen told BBC Radio 5 live. "With him coming to the club you can learn and play with him, it is only a gift and only a plus for all the younger players.
"You can feel it already with the younger players – they are buzzing. 'Oh I can maybe train with Torres', which they have done with Drogba. They have known Drogba for seven years but it's the same.
"Young players need to have examples and stars and this is the good thing in Chelsea because we have stars and all the young players are fortunate that they can learn from them. So I only see that as a plus."
Steve McLaren has been sacked by Wolfsburg – but where will his next job be? See the best betting here…
Take advantage of the sales by saving up to 36% on a subscription to World Soccer