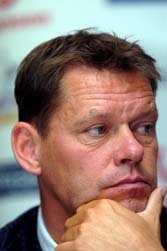 Spurs have suspended sporting director Frank Arnesen after they claimed Chelsea made an illegal approach to the Dane.
Chelsea deny breaking any rules, claiming they made an offical approach to Tottenham.
Arnesen says he wants to move to Chelsea, and Spurs have confirmed they are taking legal advice on the matter.
But Spurs told club website www.spurs.co.uk that Chelsea's move was made "in direct breach of FAPL rules".
A Spurs statement read: "This approach was made both prior to requesting permission and without permission from the club."
Chelsea responded by stating: "Chelsea Ltd made an official approach to Tottenham Hotspur for permission to speak to Frank Arnesen two weeks ago.
"Chelsea Ltd has been in direct discussions with Tottenham for the last two weeks on this subject."
The row comes just days after Chelsea were fined £300,000 and handed a suspended three-point deduction by Premier League officials for their role in an illegal meeting with Arsenal full-back Ashley Cole.
Arnesen has only been with Spurs a year, and was responsible for appointing Jacques Santini and his successor Martin Jol.
The Spurs statement added: "Notwithstanding that he is subject to contract and holds wide-ranging responsibilities and commitments to all parties at Tottenham Hotspur Football Club, Frank has indicated that he wishes to move to Chelsea Football Club.
"Accordingly, the board of Tottenham Hotspur plc has suspended Frank Arnesen with immediate effect.
"The club is currently in discussions with its legal advisors and a further announcement will be made in due course."
The Premier League, however, is yet to receive a complaint from Tottenham.
"We have not received an official complaint," said Premier League spokesman Dan Johnson. "We await to see the action Tottenham wish to pursue."
Arnesen is one of the best connected people in the game and with Chelsea looking to focus on home grown talent in the future, he is regarded as the best man for spotting and nurturing young talent.
Chelsea boss Jose Mourinho said recently: "We will invest a lot in the scouting department.
"We want to have the best possible network of scouts around the world and to produce our own players because when we are at this level we can only buy the best players in the world.
"Where are the best players? At the best clubs in the world – and they don't want to sell. So you want to improve your team and it is difficult.
"Even with money you cannot buy them so you have to produce."