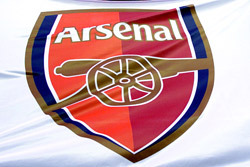 Man Utd moved into second place, two points behind Arsenal, after beating rivals Chelsea. Click here for the latest outright Premiership betting.
Premiership pacesetters Arsenal have revealed a record turnover of more than £200million, making them Britain's richest football club.
The Gunners published the results in their financial report for the year ending 31st May 2007, which showed their group operating profits were up a mammoth 274% to £51.2million.
The results reflect an upturn in revenue since the club relocated to the Emirates stadium, with match-day income rising to £3.1million per game during their first season at the new ground.
Their turnover well exceeds that of Chelsea and Manchester United, whose results for the same time were £152.8million and £167.8million respectively.
The Gunners have been subject to takeover rumours after Alisher Usmanov increased his share in the club to 21%. However, cash balances were up to £73.9million, from £35.6million in 2006 – a figure which the club insists demonstrates that there is no need for any foreign investment in Arsenal.
"We are looking at a position where we don't believe we need additional monies," managing director Keith Edelman told the BBC.
"We think it's very important as a board that the club develops revenues it generates itself and is not dependent on people putting money in every year, because that's not a very stable basis on which to run a club," he told the club's website.
"We regard ourselves as custodians of the club and fans as well. It's important that the club does have a stable financial base."
He added: "If you look at the shareholders and the look at the board, we are all here because we love the club. Yes we want to run it well as a business, but only because we want to be a great club.
"That could be contrasted with what could be called financial owners, who come to purchase clubs to make money out of them and they don't have that affinity to be a rabid fan – to live, breathe and eat Arsenal Football Club.
Money to spend
The figures make pleasant reading for Arsenal manager Arsene Wenger, who has now been handed a huge transfer kitty.
"We had £73.9m cash at the year's end and we are telling people today we've got increased cash balances at this juncture.
"Clearly Arsene's performance and the team's performance on the pitch has been outstanding, obviously backed up by our very strong financial position.
"We gave Arsene a budget in the summer and he didn't even spend all of it on transfers and hopefully we'll be able to carry that forward into future years.
"We have got plenty of financial firepower to makes the transfers Arsene wants to make.
"We had over 70 million of cash at the end of the year and if Arsene wants to spend that money we will make it available."
Arsenal chairman Peter Hill-Wood says the results indicate how the club will progress for the future. He said: "The best way that Arsenal can continue to deliver success is by maintaining a business that pays its own way.
"We have always pursued, and intend to continue with, a policy of re-investing profits and surplus cash into team development.
"Emirates Stadium now provides the club with the firm financial foundations from which we will continue to build trophy winning Arsenal teams for many years to come."
The figures quoted are before 'player trading and depreciation' which means money from the sale of Thierry Henry for £16million does not contribute towards the results.
The announcement now means Arsenal sit in the same financial league as Spanish champions Real Madrid, whose turnover was £202million for the 2005-06 season.
Man Utd moved into second place, two points behind Arsenal, after beating rivals Chelsea. Click here for the latest outright Premiership betting.