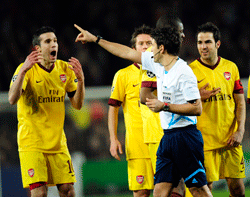 Barcelona are now a best price 2/1 for the Champions League after advancing past Arsenal last night…
Robin van Persie said his sending off in Arsenal's Champions League exit at Barcelona was "a joke", while boss Arsene Wenger was also left furious at the Dutch forward's dismissal.
Van Persie received a second booking shortly after half-time in the last 16, second-leg defeat when he shot at goal after the referee had already blown for offside.
The striker claimed he didn't the whistle above the crowd noise.
Wenger said: "I spoke to Uefa people. They are shocked as well because it killed a promising, fantastic football match.
"What for? If it's a bad tackle or a second bookable offence, okay, but frankly it is embarrassing."
Arsenal lost the game 3-1 to go out of the competition 4-3 on aggregate.
But the Gunners were angry with the decision to send off Van Persie when the score was 1-1 and Arsenal were leading 3-2 on aggregate.
The Dutchman, who had been booked for an earlier foul on Dani Alves, went on to take a shot at goal, prompting the Swiss official to produce a second yellow card.
"I cannot understand that view from the ref," said Van Persie.
"If there were four, five, six seconds in between [the whistle and the shot], you can make a check for offside. One second, it's a joke.
"I tried to explain there were 95,000 people jumping up – how can I hear the whistle?
"We feel betrayed a bit, when it was 1-1 it was all to play for and in my opinion this referee killed the game."
Wenger, who had an angry exchange of views with referee Massimo Busacca after the final whistle, believed his side could have won had Van Persie not been sent off.
"I felt Barca gave a lot in the first half. We were completely dominated, I agree with that," said Wenger.
"But in the second half we felt there was more space, I knew that, like the first game, we could come back into the game and overall I'm convinced we would have won this game.
"I think two kinds of people will be unhappy – those who love Arsenal, and those who love the game.
"We are frustrated with his [Busacca's] decision. It is very difficult to understand his attitude.
"We lost against a very good Barca side, congratulations to them and good luck for the future.
"But we have many regrets because we didn't expect to lose the game like that. I feel sorry for the people who watched the game."
Barcelona coach Pep Guardiola said his side had dominated the game and revealed the Arsenal boss had come to him with a request after the match.
"Wenger told me to congratulate the referee," said Guardiola.
"The reality is Arsenal were not able to string together three consecutive passes and they were not able to shoot once on goal.
"I have got sympathy because I love how Arsenal play.
"I don't know how they will analyse it in the end, they may analyse that they lost because it was 10 versus 11. It depends.
"I can understand [their view], if it is that they are out of the quarter-final because of the card for Van Persie, then if they believe that then OK. I can understand."
Barcelona are now a best price 2/1 for the Champions League after advancing past Arsenal last night…
Take advantage of the sales by saving up to 36% on a subscription to World Soccer