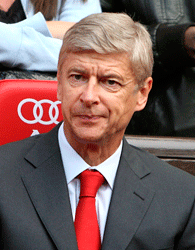 Man United take a 3-2 lead into their Champions League last 16 second leg against Milan – Simon Hopper previews the betting.
Arsenal manager Arsene Wenger has insisted his team would fear no one in the last eight of the Champions League.
The Gunners thrashed Porto 5-0 to go into the quarter-final draw with a 6-2 win on aggregate and Wenger is unconcerned about the prospect of facing English rivals Chelsea and Manchester United.
Wenger said: "I don't have a choice but I do not want to say we absolutely do not want to draw an English team.
"Maybe it is a good opportunity, if we get them, to show we can do well."
In two matches against Chelsea this season, Arsenal have been beaten 3-0 and 2-0, while United have defeated them 2-1 and 3-1 in their meetings.
United will first have to defend a 3-2 first-leg lead against Milan in the last 16 and Chelsea must battle back from 2-1 down against Milan.
"If we get them, we cannot do worse than we did in the championship – we can only do better," said Wenger.
"We will take the draw we get and also we do not have to make a negative obsession of not playing against Chelsea or Manchester United.
"We are happy to be in the last eight – it is never easy to be in the top eight in Europe. The negative side is you only have good teams now – Barcelona, Manchester United, Chelsea, so it will be difficult.
"At the beginning of the season, nobody expected this team to be where we are but we showed we have mental strength, we have good desire and good quality.
"I believe it is more important on our side to continue to improve – there are still some weak moments in the game we can deal better with, so before we talk about Barcelona or Manchester United it is important we continue to improve, then we have a chance."
Meanwhile, the Frenchman paid tribute to match-winner Nicklas Bendtner after the Dane scored a hat-trick against the Portuguese outfit at the Emirates.
"It shows you how football can change very quickly," said Wenger, referring to the criticism Bendter received following a wasteful performance against Burnley at the weekend. "Nicklas had not lost the confidence, it remains relatively stable.
"He came back with good focus and the same belief – that is one of his strengths as well."
Wenger also hailed Samir Nasri who capped a decent performance with a fine goal, turning three defenders before firing in from an acute angle.
"What he has shown in the game, he has shown in training and I have expected that to come out," said Wenger.
"He has talent and now he starts to be efficient – great players can assist and score goals, he is starting to do that now.
"We played fluent football with a positive start and the early goals gave us the belief we needed. We suffered a bit when we did not control the game at the start of the second half when we were not focused enough.
"Overall, though, we were good to watch and won with style."
Porto coach Jesualdo Ferreira, meanwhile, felt the scoreline was not a fair reflection of the match.
"Arsenal turned the game around, put us under pressure and scored an early goal, that was the worst scenario we could imagine," Ferreira said.
"They controlled the match, but Porto deserved a bit more than we got. There were a couple of mistakes which were decisive. You cannot do that against a team of such quality."
Man United take a 3-2 lead into their Champions League last 16 second leg against Milan – Simon Hopper previews the betting.
Make sure you don't miss any of the last news and articles from World Soccer. Subscribe to World Soccer today and take advantage of our all 50th anniversary offer, saving up to 50%!