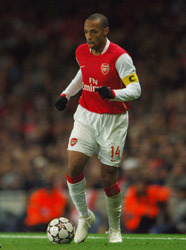 Arsenal have confirmed they have reached an agreement to sell Thierry Henry to Barcelona.
The deal, thought to be worth about £16m, is subject to the Frenchman, 29, passing a medical, which is due to take place on Monday.
Henry had already confirmed that he intended to to sign a four-year deal with Barca.
"I still must pass a medical on Monday but yes, I have chosen Barcelona," he told French sports daily L'Equipe.
Earlier, Barcelona confirmed that they were close to signing Henry, with vice-president Ferran Soriano telling Marca that talks were at an "advanced" stage.
Soriano added it was "the wish of all parties" for an agreement to be reached for the transfer of Henry.
"We don't want to point a gun at anybody," said Soriano. "We have good relationships with the European clubs."
Henry, who only agreed a new four-year deal with Arsenal 12 months ago, also confirmed his exit in The Sun newspaper.
In an open letter, he attributed his decision to move to the departure of Arsenal vice-chairman David Dein and doubts over the future of manager Arsene Wenger.
"Arsene has been part of my life for as long as I can remember," he wrote.
"Unfortunately and understandably, he has said that at this moment he will not commit to the club past the expiration of his current deal, which finishes at the end of the coming season.
"I respect his decision and his honesty but I will be 31 at the end of next season and I cannot take the chance to be there without Arsene Wenger and David Dein.
"This is solely my decision, no-one has forced me to do anything and I will represent myself in this transaction. I feel it is something I just had to do.
"Barcelona are a wonderful club steeped in tradition and play beautiful football. I'm sure I will be very happy there," he continued.
"But I will miss the Arsenal fans dearly, they have supported me through thick and thin.
"They will always be in my heart, as will all the fans who make the game here so special. I will always have a special bond with Arsenal Football Club."
Henry helped Arsenal to two league titles and three FA Cups and led the clubto the finals of the 2000 Uefa Cup and 2006 Champions League.
He has scored a club record 226 goals in 364 appearances for the Gunners.
During his eight year spell with Arsenal Henry won the Professional Footballers' Association player of the year title on two occasions and the football writers' player of the year a record three times.