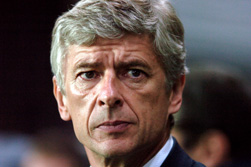 Several Arsenal players have demanded FIFA act against Spain coach Luis Aragones for the derogatory remarks he made about Thierry Henry.
Aragones was overheard calling Henry a black piece of shit, which he said was intended to motivate Henry's Arsenal team-mate Jose Antonio Reyes during a Spain World Cup training session.
He has subsequently apologised but a number of his Arsenal colleagues have demanded action.
But Arsenal's France star Robert Pires, England defender Sol Campbell and Brazilian Gilberto Silva have demanded action.
"You have to nail that guy. He should be sued for racial aggression," midfielder Robert Pires told The Sun newspaper.
Campbell added: "There is no excuse for this. There can be no room for racism in football."
"This sort of thing has happened before with various TV pundits and the English FA are right to take a firm stance against it.
"People within football have to be sensitive to the fact we are in a world game, with participants from every race and colour.
"We have to rise above the people in some countries where they sometimes shout abuse at players.
"Maybe Aragones was trying to wind Jose up and get him going for a game. But if he did say that, then hes wrong."
Meanwhile, Brazilian midfielder Gilberto Silva added: "His remarks were absolutely inappropriate. This matter must be investigated by the authorities."