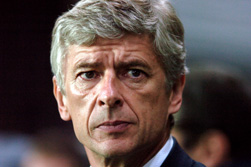 Arsenal and Man Utd both win to join Chelsea and Barcelona in the semi-finals. See the full BestPrice outright betting here.
Arsenal manager Arsène Wenger believes his side were rewarded for their attacking mentality as goals from Theo Walcott, Emmanuel Adebayor and Robin van Persie saw off Villarreal to set up a semi-final against holders Manchester United.
Despite the ease with which they disposed of the Spanish side Wenger still describes his team as "super outsiders" to lift the trophy in Rome on 27 May.
"I said before we would play to win and the team we had out was an offensive one," he said. "We attacked well against a team who keep the ball but we used the ball well when we had it and did well with our pressing. I was impressed with the quality and speed of our game overall and we gave a technically very good Villarreal team problems where they didn't like it – going in behind them and counterattacking well.
"We have confidence at the moment and that is down to the slow progress, from game to game, in the championship. Confidence transfers from one competition to another, you can't pick your matches. I never doubted these players but when you don't win games you want better.
"I was always convinced but I was more worried, not about the quality of the players but more the confidence and belief of a very young side. It's always difficult when you don't win games and I was worried with the mental side at the start of the season. But this group has shown they are mentally strong.
Looking ahead to the semi-final game with Manchester United, Wenger acknowledged that the all-English tie promised to be an exciting encounter.
"Games between Manchester United and Arsenal are always very exciting, both teams like to go forward," he said. "It's a test but it is a challenge we will relish and we're excited about that. [Playing another English team] is difficult because of the quality of the teams but psychologically it is not difficult; if you want to go far in the Champions League you have to play another English team.
"I'd like to first enjoy the qualification; history always has a part to play but it's a cup competition now, over 180 minutes and the form on the day and how much we can manage to be physically well on the day will determine how we do. We're still super-outsiders."
Villarreal coach Manuel Pellegrino conceded that the better team on the night went through.
"Arsenal were better than us in the end," he said. "When it was 1-0 we still had a chance, but when they scored the second goal it was very difficult for us to come back from that. As far as the penalty is concerned, I was too far away to see it but the referee gave it and there's nothing I can do about it. I don't know why [Sebastián] Eguren was sent off, I haven't spoken to him about it.
"Of course I'm disappointed, we obviously wanted to get through to the semi-final but Arsenal were better than us, even before the sending-off. I have no complaints. They are in the semi-finals now and when you're there, anything can happen. It will be a difficult tie against Manchester United – it will be 50-50 and it's very difficult to predict what will happen.
Arsenal and Man Utd both win to join Chelsea and Barcelona in the semi-finals. See the full BestPrice outright betting here.
For more fascinating features, subscribe and save 30% and use the below link?