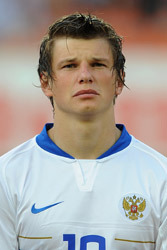 Premier League Fixtures – The start of the new Premier League season might still be a while off, but the fixtures are already out and we've got all the early match betting – Aug 16th
Andrei Arshavin has again confirmed his desire to join Barcelona, but is concerned that the Spanish club will be deterred by the size of the fee demanded by his club Zenit St Petersburg.
Barcelona have just completed the signing of Alexander Hleb from Arsenal following the sale of Ronaldinho to Milan, and Arshavin is hopeful that he too will be on his way to Camp Nou.
"As they have signed Hleb, I do not know if they will want me too," he told Sport We are different players, I know that, but does Barca have more money to spend on me.
"I really hope that they call and can sign me, but Zenit is asking for so much money. I know nothing more than that Barca offered €15million and Zenit said they wanted €30million which is a lot.
"I have made my decision and (Dick) Advocaat knows clearly that I will go. I do not know if it will be to London, but my desire is well known.
"Now I do not want to not play or train for weeks. I agreed with the coach, with the club's permission, that I would only play if necessary while a transfer is sorted out."
Arshavin also denied that he had held talks with Premier League sides Arsenal and Chelsea, who have both been linked with his services.
"I was not in London negotiating anything. My club let me have a holiday after the European Championships, but I did not go to London," he said.
Arshavin also confirmed that his desire to leave Zenit is not financially motivated.
"Money? I doubt that many other clubs would be able to pay me what Zenit can. It is not an economic question, it is about sporting desire. I want to play in one of the big leagues," he continued.
"My dream is Barca, but saying that is nothing new. Everyone knows that my dream has always been to play there.
"I remember Koeman's goal in the European final at Wembley. That goal had a great effect on me and the way the team played. I discovered the team when I was very young and I said I wanted to play for them one day.
"Barca is a team that can win 7-0 or lose 4-3 because their way of playing football is to attack. Since I can remember it has been like that and watching them is always exciting.
"I have always loved the way that they play with people like Koeman, Laudrup, Stoichkov, Guardiola.
"(Lionel) Messi is very, very good and to play alongside him would be wonderful and (Thierry) Henry, what more can I say, he is incredible.
"I would not feel any pressure. I have played for Zenit for eight years and there is also a lot of pressure here."
Premier League Fixtures – The start of the new Premier League season might still be a while off, but the fixtures are already out and we've got all the early match betting – Aug 16th