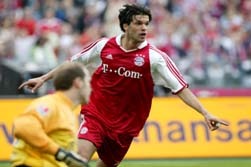 Just days after claiming that Michael Ballack would not be moving to Chelsea, the player's agent now admits that the Premier League champions are the hot favourites to sign the Bayern Munich playmaker.
"Nothing has been signed, but there will be ongoing contact with Chelsea. There is strong interest from both sides," Michael Becker told the BBC.
"The trend is in this direction (to move to Chelsea).
"Michael had initially been very keen on Real Madrid. But the leadership changes there in the last few months mean we don't know what's happening."
Real sacked coach Wanderley Luxemburgo in December last year and to compound their current problems, president, Florentino Perez, stepped down earlier this week.
"There has been a change in the whole set-up at Real and we don't know where we stand – it's very confusing," added Becker
Ballack, 29, will be a free agent in the summer when his contract at Bayern Munich expires.
An Italian newspaper claimed on Thursday that the player's representatives had held talks with Inter. But Becker dismissed the story outright.
"Michael will continue his career with a side that will win the Champions League," he said.
"He definitely will not go to Inter Milan. He would only move to a club where he has a better chance of winning the Champions League than at Bayern.
"Inter are currently third in Serie A, whereas Bayern are top in the German league."
Subscribe to World Soccer – The essential football magazine