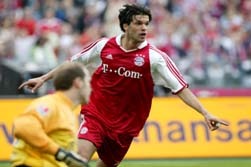 Germany's Michael Ballack has admitted that England would be his preferred destination, should he leave Bayern Munich this summer.
The 29-year-old playmaker is out of contract at The Allianz Arena and Premiership champions Chelsea are favourites to secure his signing.
Ballack has attracted interest from several European clubs, but he has revealed that he would prefer a move to England.
"For me, it is The Premiership rather than La Liga," Ballack told The Daily Express.
"I am a very physical player and, in England, the pace is fast and the tackles are hard."
Ballack compared himself to Patrick Vieira and Roy Keane and believes he could have a similar impact to the pair.
"If you look at the players that have become legends in England, like Patrick Vieira and Roy Keane, I see a lot of myself in players like that," he added.
Ballack's future is expected to be decided before the World Cup finals, and it appears that it has come down to a straight choice between Bayern and Chelsea.
Last week Chelsea manager Jose Mourinho told German newspaper Bild: "I want him. He has said he needs time before making a decision. I respect that. Now it's up to him."
"For me Ballack is one of the best players in the world.
"He's very intelligent, tactically very strong and he scores a lot of goals.
"For me in Europe there's only Frank Lampard who plays at that level. The two would form a dream pair."
Subscribe to World Soccer – The essential football magazine.