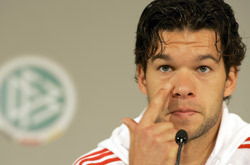 Who will win the 2010 FIFA World Cup? See all the latest 2010 World Cup betting odds here, for every nation.
Germany captain Michael Ballack has been ruled out of the World Cup because of the right ankle injury he suffered in Saturday's FA Cup final.

A scan showed damage to two ligaments but it is expected to be eight weeks before he can resume training and Germany's first match is on 13 June.
"It's bitter to get a diagnosis like that before the World Cup," he said.
Ballack was injured after a challenge by Portsmouth's Kevin-Prince Boateng.
An early X-ray at the stadium showed no broken bones but a further scan in Germany on Monday indicated the full extent of the damage.
The German Football Federation said Ballack's right ankle will be placed in a cast and he will have to wear a special shoe for two weeks after the cast is removed.
A Chelsea statement confirmed: "The German national team doctor Hans-Wilhelm Muller-Wohlfahrt, estimates the earliest possible return to training for the player is in eight weeks."
Ballack, who has played 98 times for his country, sustained a tear of one ankle ligament and a partial tear of another.
"There's naturally a lot of disappointment," he said. "But that's football. That happens. Life goes on."
Germany coach Joachim Loew said: "We were all naturally shocked this morning when we got the news. I talked to Michael. He's deeply disappointed. He put all his energy and power into playing in this World Cup.
"He's near his 100th cap. That would have been a match in Frankfurt against Bosnia.
"That's an immense disappointment for him to not be able to play in this World Cup."
Loew hopes the setback might inspire his squad and added: "I called the team together and spoke with the team and passed along the information.
"It's very, very unfortunate for us. But it shows we have to pull all our strength together and look forward. We've got a lot of young players.
"We've now got to get to that point that our younger players get this self-confidence and can grew into the roles."
Who will win the 2010 FIFA World Cup? See all the latest 2010 World Cup betting odds here, for every nation.
Make sure you don't miss any of the last news and articles from World Soccer. Subscribe to World Soccer today and take advantage of our all 50th anniversary offer, saving up to 50%!