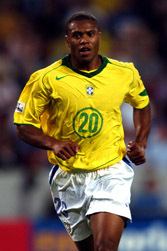 Julio Baptista has again revelaed his desire to stay at Real Madrid following his season-long loan at Arsenal.
The Brazilian spent last season at Emirates Stadium, but Arsenal opted not to pursue a permanent deal.
Baptista, who scored the opener in Brazil's Copa America triumph last Sunday, nhopes to become a part of new coach Bernd Schuster's plans.
"It cheers me that they have praised me because I want them to have faith in my football," Baptista told Punto Radio.
"What I really desire is to play for Real Madrid and to succeed there.
"I do not want to look for another team. If you sign a contract, and you are happy, you do not wish to change team."
Baptista is also confident that Schuster will be successful at the Bernabeu.
He added: "I hope that he is good for Real Madrid and all of us.
"What I want is to be able to help, and to be able to play, and if the trainer trusts you, even better."