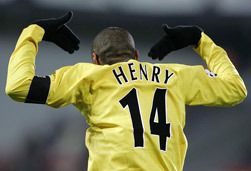 Barcelona president Joan Laporta has confirmed they will attempt to sign Arsenal captain Thierry Henry.
Henry's current contract expires in the summer of 2007 and he has yet to open talks on a new deal.
Barcelona playmaker Ronaldinho has already declared he would be delighted to play alongside Henry.
Laporta told The Sun: "We will do all we can to sign Henry."
Ronaldinho also admitted he would welcome Chelsea's Frank Lampard as another summer signing by the Spanish league leaders.
World and European Player of the Year Ronaldinho said: "Everybody in Barcelona is talking about Thierry and Frank joining us.
"I would not be unhappy at all if those two players signed for Barcelona."
"Henry is a beautiful player and has got complete technique.
"I adore watching him. I respect him very much as a man and as a footballer. He reminds me of myself.
"As for Frank, I think it would be fantastic if the club could get him to join us."
Subscribe to World Soccer – The essential football magazine