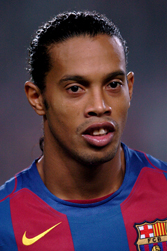 Several Barcelona players have dismissed Chelsea's chances of overturning their 2-1 deficit when the clubs meet on Tuesday.
"I'm sure Barcelona will reach the quarter-finals," Ronaldinho said.
"Having seen Chelsea close up I am still 100% confident that we will go through to the quarter-final.
"Chelsea gave us a hard game but our performance deserved better. We have a better team and I'm certain we will score at Stamford Bridge."
And Ronaldinho added that he expected all four English challengers in Europe's premier competition to fall by the wayside this week.
"All we need is one goal, then that will be it; we will have struck gold," added Eto'o.
"That will be enough to see us through and I intend to score it.
"It would be a massive revenge for me after the way I was treated by Chelsea. I will make them pay for not buying me.
"Mourinho will be forced to regret it. He should have realised I am better than so many Chelsea players and he will pay a heavy price in being knocked out of the Champions League."
All four English clubs face tough second leg matches and Ronaldinho believes that only Liverpool, who take a 3-1 lead to Bayer Leverkusen, will progress to the next round.
"I don't think any of the English sides will do it," the Brazilian added.
"My predictions would be Real Madrid, Bayern Munich, or AC Milan and maybe Inter to challenge."
Barca skipper Carles Puyol added: "There's no area of Chelsea's attack where they're better than our defence.
"But we can't play defensive football on the back foot like Chelsea.
"Barca don't believe in closing down the entertainment value and sitting back and hoping for your opponents to make an error.
"Chelsea have two styles of play which are to sit back and close off a game or play route one football.
"This is a game for our great stars to show up in and we will go out to win the game because that's our style."