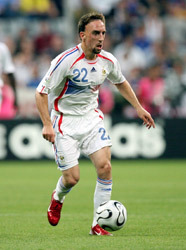 Bayern Munich have denied reports that Franck Ribery has signed for the club.
Sport agency sid claimed that Bayern had agreed terms on a €15m deal for Ribery.
However, while Bayern general manager Uli Hoeness admitted Ribery was a player the club were interested in signing, he denied a deal had been done.
"We are interested in him, but we haven't reached an agreement with him or his agent," he told the German press.
Ribery is a long-term target for Bayern, but the French international has always stated he would prefer to play in Spain or England.