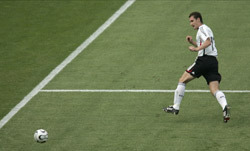 Bayern Munich chairman Karl-Heinz Rummenigge is confident that Miroslav Klose will join them this summer.
The Werder Bremen striker has announced he will join Bayern when his current contract expires in 2008, but Rummenigge believes Klose might join this summer.
"I really believe that the transfer will have to happen this summer," Rummenigge told Bild.
"Bremen just can't afford to keep an unhappy player for another whole year."
The Germany international could join Luca Toni and Franck Ribery in becoming big-money signings for Bayern this summer.
If Klose does move to Bayern, Rummenigge confirmed the club will allow Roy Makaay to leave the club.
"Roy Makaay has told us that he wishes to move on if Klose does come and that's okay with us," he added in Munchner Merkur.