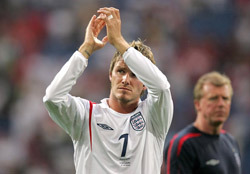 David Beckham's England career looks over after new manager Steve McClaren left him out of his squad to face Greece on August 16.
"I told David I was looking to change things, looking to go in a different direction, and he wasn't included within that," explained McClaren.
The new England manager refused to close the door on Beckham's career, but it seems unlikely that the 31-year-old will add to his tally of 94 caps.
"I got the reaction I wanted, and the reaction was he would continue to fight for his place, and I will never close the door on that."
The Real Madrid midfielder resigned as captain after England's World Cup elimination in July but insisted he wanted to continue playing.
Beckham made his debut in a World Cup qualifier against Moldova in September 1996 at the age of 21. He went on to lead England 58 times, behind only Billy Wright and Bobby Moore (both 90) and Bryan Robson (65).
Sol Campbell and David James have been also been left out of McClaren's first squad, but Jermain Defoe, Phil Neville, Wes Brown, Darren Bent and Chris Kirkland return to the squad. West Ham striker Dean Ashton has received his first England call-up.
"It's a new beginning, a new era. It's a terrific nucleus," said the former Middlesbrough boss.
"I have always admired Defoe. He has great potential. He came along as a back-up player during the World Cup and did well in training.
"Ashton has come through the Under-21s and then made a big money move to West Ham. He's done well there and should be given his opportunity."
England squad
Goalkeepers: Robinson (Tottenham), Kirkland (Liverpool), Foster (Man Utd).
Defenders: Bridge (Chelsea), Brown (Man Utd), Carragher (Liverpool), A Cole (Arsenal), Dawson (Tottenham), Ferdinand (Man Utd), G Neville (Man Utd), P Neville (Everton), Terry (capt, Chelsea), Young (Charlton).
Midfielders: Downing (Middlesbrough), Gerrard (Liverpool), Hargreaves (Bayern Munich), Jenas (Tottenham), Lampard (Chelsea), Lennon (Tottenham), Richardson (Man Utd), Wright-Phillips (Chelsea).
Strikers: Ashton (West Ham), Bent (Charlton), Crouch (Liverpool), Defoe (Tottenham).