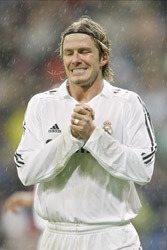 David Beckham admits he expects to sign a new contract with Real Madrid before the end of the season.
Beckham's current deal expires in June 2007 and the midfielder anticipates signing a new deal before the World Cup begins this summer.
"We will begin to talk in the summer but there are no doubts, I will remain here," Beckham confirmed.
"They (Madrid) know that I want to stay and I know that they want me stay."
The former Manchester United midfielder is settled in Spain and he has assured Real that he is keen to stay with the club.
"I have just moved house and the club knows this. They are not worried by my situation, they know I don't want to leave," he added.
"Perhaps in England things are resolved earlier, but here things are different.
"This is one of the biggest clubs in the world, so why would I leave?"
Meanwhile, Beckham has rejected suggestions that he will be joined at the Bernabeu by England manager, Sven Goran Eriksson.
Eriksson will leave his post after the World Cup, but his captain does not expect to see the Swede in charge at the Bernabeu.
"I have a good relationship with him, but I don't know what will happen in the summer," Beckham told Marca.
"Juan Ramon Lopez Caro is doing well, he has brought unity to the group which was something we lacked before.
"He has succeeded at making us play as a team."
Subscribe to World Soccer – The essential football magazine