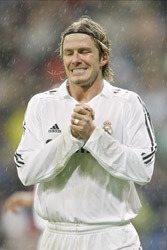 David Beckham has confirmed he wants to finish his playing career with Real Madrid despite the speculation linking him with a return to England.
"I will always keep my home in London but I have never hidden the fact that I want to spend the rest of my career with Real Madrid," Beckham told the official Real Madrid website.
"I want to stay and remain captain of England. My children are at school here and I would like to stay here even after my career is over.
"I have worked with great coaches like Nobby Stiles, Eric Harrison, tough people. Eric made you clean the kit. It was a way to learn as a footballer.
"Then came Sir Alex Ferguson. I have got to the stage I am now because of them. I am still learning the game."
beckham admitted that the constant turnover in coaches at the Bernabeu – five in two and half years – has proved to be the most difficult aspect of his stay at the club.
"During 10 years at United I had the same coach, week after week working with the same man, knowing what to do," the England skipper added. "The change of trainers has been the most difficult part of Real Madrid."
Beckham also admitted that he felt he had to prove himself all over again when he first arrived in Spain.
"It was hard to leave your home because you leave a zone of comfort. I had a house in Manchester and was happy there, everything was perfect," he continued.
"When I arrived in Madrid, newspapers were asking if I had come to sell t-shirts or to play football. In that way another aspect of my personality prevailed.
"I had to prove that I am good, quite normal person. To be with new players and in a new club it allows you to discover to what extent you are good. I had to adapt to a different style."
"At the Bernabeu, you cannot hide. When I came, people said the fans like players who work hard and I have the energy to do it.
"I am happy here. I played in England for many years. Now the life here enchants me."
Subscribe to World Soccer – The essential football magazine