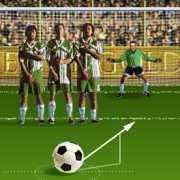 A wonderfulDavid Beckham free-kick from 35 yards earned Real Madrid a 1-0 victory that lifted them to the top of the table and lift some of the gloom enveloping in the club in the wake of Jose Antonio Camacho's resignation.
"It was important for us to win and get the fans back on side," said Beckham afterwards
Real ran out to jeers from fans upset over the perceived role of the players in Camacho's departure, with Brazilian defender Roberto Carlos singled out for criticism by the home support
"I was surprised with some of the criticism, especially for Roberto; I really don't know why they went for him," said Beckham.
"Maybe because the press said that it was the senior players that were the reason why Camacho left, but it was nothing to do with the players. The players worked hard for him. It was his decision.
"I may have scored the goal but the team responded under a tremendous amount of pressure," he went on, but he did concede that it "wasn't the greatest of performances"; and rightly so. Madrid were again disappointing.
The new manager Mariano García Remon's restored Raul to the starting line-up and the striker almost opened the scoring on 28 minutes when he hit the post with a curling effort, and as the ball came back Albert Celades forced a fine one-handed save from keeper Ricardo Sanzol.
Real were still largely uninspired, though, and although Raul set up chances for Figo and Ronaldo it needed a set-piece goal from Beckham to secure the points.