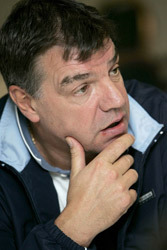 Bolton manager Sam Allardyce has responded to David Beckham's claim that England's next manager should have Champions League experience.
Allardyce is one of the leading home grown contenders to replace Sven-Goran Eriksson, but using Beckham's criteria he would not possess the requisite experience for the job.
He said: "So the England manager must have Champions League experience, at least on the back of what David Beckham says? I don't think so.
"All that matters is that you are a great manager.
"If that applies, you are right for the job.
"It's the same when people say you should have played international football to have the right credentials to manage a national team.
"Was Sven-Goran Eriksson an international footballer? No. Were Jose Mourinho or Rafael Benitez? No.
"Nobody seems to question their coaching qualifications."
"You don't need to be anything other than a great manager. If that's what you are. Of course, if you've had experience in football at the highest level then that's going to help you. But you don't have to
"Everyone knows I would love to have the opportunity to be interviewed for the England job. If that happens it would be fantastic.
"But until those decisions are made I have a duty to my club."
Premier League chairman David Richards, Football Association chief executive Brian Barwick and international committee chairman Noel White will present a list of candidates to a full meeting of the FA board on 27 February.
And it is expected Eriksson's successor will be appointed before the start of the World Cup in Germany in June. Along with Allardyce, fellow English managers Alan Curbishley and Stuart Pearce are in the running for the job, although the bookmakers favourite remains former Celtic boss Martin O'Neill.
Subscribe to World Soccer – The essential football magazine