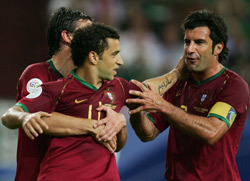 Benfica have that it will take an "incredible offer" to persuade them to sell coveted winger Simao Sabrosa.
Liverpool and Lyon, are thought to be keen on Simao, although Benfica are determined to hold onto the player.
Benfica value Simao at around €16-18million and the Portuguese club's president Luis Filipe Vieira insists that the figure is not negotiable.
"We are not interested in selling Simao and will only study the subject if an incredible offer arrives," Vieira told the Portuguese press.
"At this moment we have not received anything."
The player himself says he is in the dark about his future.
"All I know is that I have signed a deal with Benfica until June 2012," he said to reporters at Lisbon Airport.
"I am not negotiating with anybody."