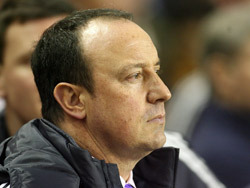 Compare football odds from over 25 bookmakers and claim £500+ in Free Bets. Click here for offer!
Liverpool co-owner Tom Hicks has backed Rafa Benitez, declaring the Spaniard is "absolutely" the man they want to manage the club.
Newspaper reports have suggested Real Madrid want Benitez to succeed Fabio Capello as their coach this summer, but Hicks says he intends to sit down with the former Valencia coach to discuss the club's future.
"We're going to get together with Rafa the morning after the Arsenal match (on 31 March)," Hicks told Five Live Sport. "It's now time to do that."
"I'll have my whole family over and [co-owner] George [Gillett] is going to have his family there.
"We're all going to celebrate our first match together as the official owners. We've set aside half a day the next day to visit with Rafa."
The American duo are set to formally take control of the Anfield club next week, and Hicks says this is the reason why he and Gillett are yet to hold talks with Benitez.
"I've exchanged a number of emails with Rafa and know George talked to him personally last week," he said.
"We've explained to Rafa, which he knows and I think is very comfortable with, that we don't own the team yet.
"We will officially own the team some time next week when the tender closes.
"It would be very inappropriate for us to start and have those kind of important meetings prior to being the owners."
Benitez, meanwhile, has ruled out a move to Madrid, telling Liverpool's official website: "I think it's important the fans know I am completely committed to Liverpool Football Club and I'm going nowhere.
"I know there's been a lot of speculation in the Spanish media linking me with Real Madrid.
"Any manager would be honoured to be associated with such a famous club, especially as Madrid is my home city and also my former club.
"However, I want to make it clear I am very happy at Anfield and very happy in England and I'm genuinely excited by what the future holds for Liverpool."
Compare football odds from over 25 bookmakers and claim £500+ in Free Bets. Click here for offer!