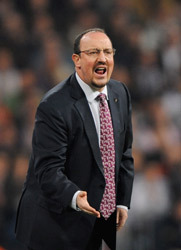 With John Toshack stepping down as Wales boss who will takeover? Names like Ryan Giggs, Chris Coleman & Ian Rushare in the mix. See all the betting odds here.
Inter coach Rafael Benitez has dismissed talk of a crisis at the club ahead of their Champions League clash against Werder Bremen at the San Siro.
Inter entertain the Germans on Wednesday following a 2-2 draw away to FC Twente in their opening Group A match.
Inter currently lead the Serie A table but on Saturday suffered their first defeat of the season, a 1-0 reverse at Roma.
And with a mounting injury list, some in the press had suggested last season's treble winners were in trouble.
"Crisis? I look at the league table and I can't see where the crisis is," said Benitez on Tuesday in repsonse to a question from a journalist.
"Tactically there are things we can improve on but this team has a lot of attacking players and it's not always easy to find the right balance," he admitted.
"But I watched the match against Roma again and we played well, if we played that same game 100 times we would win 99 of them."
Benitez withdrew strike pair Diego Milito and Goran Pandev due to injury during that match, although both have been included in the squad to face Werder.
If the pair miss out Benitez's resources up front will look bare but he refused to question the club's decision to sell young talent Mario Balotelli to Manchester City in the summer.
"Do I regret Balotelli (leaving), when you make a choice it's always better not to look back," said Benitez.
One player who may get his chance is Brazilian Mancini, widely regarded a flop since his move to Inter from Roma two years ago.
"He's a player with experience who could bring quality to the starting line-up, he's an extra resource," said Benitez.
The former Liverpool and Valencia boss also denied he had any problems with Romanian full-back Cristian Chivu, who appeared tp launch an angry outburst at the coach on the pitch on Saturday.
"The issue with Chivu was resolved in the changing rooms, these things happen on the pitch," added the Spaniard.
"For me the most important thing was to understand whether or not he had a point. We've spoken about it in training and now everything is fine.
"It's absolutely not a disciplinary question. Maybe it's not the best way to discuss tactics but at least we've solved it.
"All teams have internal problems, you need only look at the team that beat us (on Saturday).
"I've read that (Samuel) Eto'o could be a problem but I believe he could be the solution more than the problem."
While both teams are beset by injuries, both will be able to call on their main playmakers—Inter's Wesley Sneijder and Werder's Marko Marin—an area in which Benitez believes his team has the advanatge.
"Werder are a good, experienced team, they have injuries but so do we, something which is normal in modern football given the great intensity," he said.
"But it will be a tough match, all the teams drew in the first week so we're all in the same situation.
"It's true that Marin is a great player who can play in two or three different positions but right now I prefer Wesley because he's playing for us and tomorrow (Wednesday) I think he'll play better."
With John Toshack stepping down as Wales boss who will takeover? Names like Ryan Giggs, Chris Coleman & Ian Rushare in the mix. See all the betting odds here.
Make sure you don't miss any of the last news and articles from World Soccer. Subscribe to World Soccer today and take advantage of our all 50th anniversary offer, saving up to 50%!