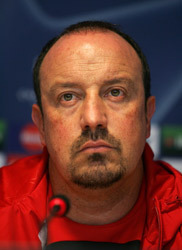 Can Tottenham follow up their midweek win over Arsenal against Chelsea this weekend? Full betting here.
Liverpool manager Rafa Benitez believes that the arrival of new chairman Martin Broughton and confirmation that the club has been put up for sale, is a sign that the club will soon overcome its recent financial difficulties.
The news was confirmed by the Anfield club on Friday morning and Barclays Capital is also to offer advice to Reds co-owners George Gillett and Tom Hicks as they look for a buyer.
Financial constraints at the club has led to speculation about the future of Benitez and as a result the announcement of the sale has been welcomed by Liverpool supporters.
Benitez said: "We have a new chairman and he is in charge of these issues.
"At this moment, for me as a manager, I have to concentrate on the West Ham game.
"I think the club is moving forward and that is positive. It is important for the club to move forward. It could be good news."
Broughton insists there will be no pressure on the club to sell big-name players Fernando Torresand Steven Gerrard this summer and predicts money will be available in the transfer market.
He said: "I can't see any reason for any forced sales. I think everybody concerned, fans, players and the manager, can all look forward to a very bright future.
"There will be money available for transfers, but I am not going into how much."
Broughton said any new owner would have to prove they had the funds to take the club forward and would be expected to provide funding for the planned new stadium.
"What's best for the club is somebody or bodies to come in and build the new stadium, make sure that the club is properly financed and that there is enough money available to take the club forward," he said.
"I have looked at the stadium project and frankly there is an overwhelming financial logic to any buyer to proceed with the stadium. Any buyer would be crazy not to do so.
"We wouldn't get to be the winning bid with that commitment."
Broughton also made it clear that he wants Benitez to remain at the club, adding: "Rafa is a good manager, we want him to stay and he's under contract to stay."
Can Tottenham follow up their midweek win over Arsenal against Chelsea this weekend? Full betting here.
Make sure you don't miss any of the last news and articles from World Soccer. Subscribe to World Soccer today and take advantage of our all 50th anniversary offer, saving up to 50%!