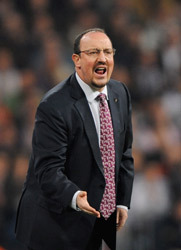 Liverpool are heading into the Europa League as favourites after being dumped out of the Champions League – BestPrice outright betting here.
Liverpool boss Rafael Benitez's job is "under no threat" according to the club's managing director Christian Purslow.
Purslow has come out to publicly support the beleaguered Spanish boss after Liverpool's elimination from the Champions League group stages for the first time since the 2002-03 campaign.
Liverpool beat Debrecen 1-0 courtesy of David Ngog's early goal, but that result was rendered irrelevant as Fiorentina beat Lyon 1-0 in Florence to join the French side in the last 16.
"You can never predict last-minute goals, which have cost us dear in the Champions League," Purslow said. "That's no basis to make managerial decisions.
"We don't run our business in that respect. I'm on the record as saying Rafa's signed a new five-year contract, he's four months into that contract so to discuss that is not appropriate. He is under no threat."
Referring to the financial ramiifications of missing out on the knockout stages, Purslow added: "It's limited actually. Assuming we have a reasonable run in the Europa League then we are financially neutral for this year."
Benitez accepted Champions League elimination was Liverpool's "own fault".
"It was our own fault in the end, the late goals we have conceded along the way have cost us," said Benitez. "We have been so good in the last few years that maybe people think it is easy to qualify in all competitions.
"Because of that, people think we can do it every season. But you cannot always, now we have a massive game on Sunday at Everton and we have to be ready for it. We have to be disappointed, we knew we had to win and we did that. You cannot change what happened in Florence, but at least we did our job.'
"If you analyse the other group games, losing two late goals in two games with Lyon has been the massive difference," he added.
"It has cost us four points from goals conceded in injury time. I am disappointed because of the way we have gone out – those two goals in the last minutes (against Lyon). If we had stopped just one of them we would still be in this competition fighting for a place in the next stage. We cannot change that now.
"We must be positive and think of the next competition, the next game at Everton and then the Europa League," he added.
"We also know that Steven Gerrard can play a full 90 minutes, he has recovered. Fabio Aurelio, also, has returned well from injury. All of that is positive for the rest of the season."
The victory ended a five-match winless streak and Benitez hopes the result will provide some momentum.
"Winning is the target, so now we have new targets," he said. "We are in a very bad position because now we cannot win the Champions League again, we know that, so the next game has to be won.
"The players know we have had a bad run of games. We could have done better, but we won this match and we have shown we can win in difficult circumstances. I am trying to be very positive. The players know that when we have Gerrard on the pitch and when we have our other big players available, we will improve."
"We must remain positive, and think about the next competition. And that is Everton. We have to win against Everton, that is our priority now. If we can do that we must think of winning several games in a row. We needed to win today and hopefully now things will change and we will win more regularly.
"Our fans realise the team was working hard. We are paying for mistakes in the last minutes of other games in this group, they know you have to do well right from the beginning of a group."
Liverpool are heading into the Europa League as favourites after being dumped out of the Champions League – BestPrice outright betting here.
Christmas special offer – Subscribe to World Soccer magazine today and Save up to 32%