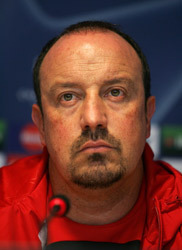 Manchester United defend their 22 game unbeaten home Champions League run against CSKA Moscow at Old Trafford – see all the best odds here (Tues 19:45)
A sixth defeat in seven games and a fifth loss in just 11 Premier League games, has heaped further pressure on Liverpool manager Rafa Benitez.
However, despite Saturday's 3-1 loss at Fulham, the Spaniard is pinning his hopes on a win against Lyon in this week's Champions League encounter to kick start the club's season.
The significance of Wednesday's trip to Lyon was highlighted by the sight of Fernando Torres scoring a goal then being substitued. Benítez admitted that a player troubled by a hamstring problem is having to be handled with kid gloves.
"The question is, if you don't play Torres from the beginning you will be talking about why he is not playing, so it's a difficult decision," said Benítez.
"We decided to start with him because he can do a proper warm-up but after we knew we needed to take him out at certain moments so we decided it was 60 minutes because the last time with 80 minutes he needed four days to be fit.
"It is a big risk if you keep a player playing if he has this problem so we wanted to protect Torres as we knew it could be worse for him.
"If you lose the player for 20 minutes it is better than for one month.
"We knew that we had to change him," added the Spaniard, who also took off Yossi Benayoun late on. "In the last game he played 80 minutes and needed four days to recover.
"He was always training with pain. We knew that we had to change him but it was a question of when and we did it at the moment we did. I think that it was best for him."
In the knowledge that anything less than a win in France could end Liverpool's Champions League aspirations, Torres was rested – and Fulham took control.
"I think it was clear we needed to do something because always you think about protecting the player, and in this case we were more or less in control of the game, but we had some chances in attack with [Andrei] Voronin, [Dirk] Kuyt, Yossi [Benayoun] and Babel, so to keep the player on the pitch could be a problem and maybe you lose the player for one month.
"We were analysing before the game what to do. So we decided to play him; that was the most difficult decision. And after, you have to manage during the game."
Manchester United defend their 22 game unbeaten home Champions League run against CSKA Moscow at Old Trafford – see all the best odds here (Tues 19:45)
Christmas special offer – Subscribe to World Soccer magazine today and Save up to 32%