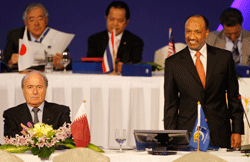 Gavin Beech gives his best bets for Man City's trip to Dynamo Kiev tonight – see his full preview here…
Mohamed bin Hammam has dropped the biggest hint yet that he intends to stand against Sepp Blatter's bid for re-election as FIFA president.
Bin Hammam, currently president of the Asian Football Confederation (AFC), is expected to challenge Blatter in May, a move which would threaten to end the current incumbent's 13-year reign as the most powerful man in football.
"People have to try change. Change is good." Bin Hammam told The Guardian. "Within ten days I will formally declare whether I will stand or not."
Bin Hammam, a member of FIFA's 24-man executive committee for the past 15 years, was influential in the decision to award the 2022 World Cup finals to Qatar.
Bin Hammam advocates the introduction of greater openness in the decision-making processes of FIFA.
"I would call for more transparency in FIFA, to widen the decision-making base and bodies within FIFA," he said. "I'd engage stakeholders more and give them a real platform to express their wishes. We cannot ignore the clubs. We should respect the clubs, and it is for the clubs also to respect the member associations."
Bin Hammam is confident he could defeat Blatter having gained support from the Asian, South American, North American, African and Oceania confederations in recent months, but the 61-year-old admitted that he is uncertain whether he could secure the European vote.
"I am happy with [perceptions in] most confederations but I don't know about Europe and how they will deal with my candidacy," he said. "Europe is the core of football. I would like now to make a real assessment in Europe. I have not declared myself as a candidate; maybe [upon doing so] it will be easier to see the response then.
"I will go to the Paris Congress of UEFA [on March 20] and I will already have declared my candidacy or otherwise."
The election will take place at FIFA House in Zurich during the 61st FIFA congress on May 31 and June 1.
Gavin Beech gives his best bets for Man City's trip to Dynamo Kiev tonight – see his full preview here…
Take advantage of the sales by saving up to 36% on a subscription to World Soccer