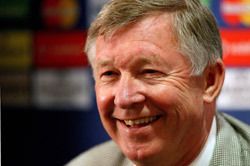 Sir Alex Ferguson's delight at reaching the Champions League final was tempered by the "tragedy" of Darren Fletcher's red card.
Fletcher will miss the final after being sent off for what the Italian referee, Roberto Rosetti, deemed to be a professional foul on Cesc Fábregas 75 minutes into United's 3-1 victory.
Fletcher had, in fact, touched the ball away from his opponent but Uefa confirmed there was no scope for appeal.
"He's distraught," said Ferguson after being unable to console the Scotland international in the dressing room. "He's really disappointed and he is entitled to be. He's one of the most honest players in the game and for him to miss the final will be a tragedy."
"In respect to the referee in this situation he might look at it himself without anyone asking him.
"We shouldn't ask him. He's competent and fair enough to look at it himself possibly. Apparently, you can't appeal and if that's the case it's disappointing for the boy."
Arsenal manager Arsenal Wenger also insisted the red card was "very harsh" after television pictures clearly showed Fletcher played the ball cleanly.
Two goals from Cristiano Ronaldo along with one from Ji-Sung Park eased United to a 3-0 lead, and although Robin van Persie reduced the deficit from the penalty spot, the holders' superiority was evident throughout.
Although Ronaldo attracted the plaudits for his performance, Ferguson said there were several contenders for the man-of-the-match award.
"We had a good start to the game and that makes a difference," he said. "Two quick goals knocked the wind out their sails. They are a young team and whatever level you are playing at you can't recover from that.
"From the club's point of view, I have said many times we should have won this competition more than we have: We have the quality. When the chips are down [this team] don't let me down. The third goal was great and the speed of the play was fantastic.
"Good players will always be judged on their performances, ability and belief but the good thing tonight was they played with each other; they all played their part. Ronaldo made the difference but if you looked back at the game, at the movement of Park and the running of Fletcher, you have to ask: 'Who was the Man of the Match?'"
The outcome leaves United one win away from becoming the first team to retain the European Cup since it was rebranded as the Champions League in 1992.
For more fascinating features, subscribe and save 30% and use the below link?