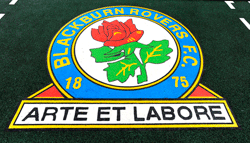 Next Blackburn Manager: Martin Jol is emerging as the favourite to land the Ewood Park hot-seat
Blackburn Rovers' new owners Venky's want the next manager of the club to be British following the sacking of Sam Allardyce.
Allardyce was fired on Monday by the Indian consortium who took over in November – a decision that came as a major shock to the man himself.
Venky's have received a backlash from supporters following the dismissal, as well as condemnation from Manchester United manager Sir Alex Ferguson, who was shocked by the sacking of his close friend.
Chairman Anuradha Desai defended the decision. saying that the club wanted to see an entertaining side as well as a successful one.
"We want good football and Blackburn to be fourth or fifth in the league or even better," read the club's statement.
"The fans should trust us because this is in the best interests of the club.
"It is nothing against Sam but we have a different vision looking forward and we want the club to grow.
"It is not about the Bolton match. It has been a long time in our minds.
"We wanted good football, wanted the games to be interesting and of course wanted to win and to have good players.
"Our thinking now is that it will be a British manager, but we are open if there is an outstanding candidate: someone who would be really, really good for the club.
"Right now Steve Kean will take over while we are looking for someone to take over on a permanent basis."
Meanwhile, Allardyce said he was "shocked and disappointed" by his dismissal.
"That's the world of football as it is. It hasn't really been explained to me and I'm really confused in my own mind at the moment," he said.
"But the reality will kick in in a couple of days. For now it's just about me thanking everybody at Blackburn Rovers.
"I've had a fantastic two years there. I've really enjoyed my time with everybody and how well we did with the circumstances (under which) I took over and how we've helped the club going forward.
"Unfortunately it is no more. It's up to them now whether they take the club forward. I'm not a part of it and I'm very disappointed about that. But the club did need to be sold."
Next Blackburn Manager: Martin Jol is emerging as the favourite to land the Ewood Park hot-seat
A subscription makes the Christmas perfect gift. Give a lasting gift this year and save up to 33% when you subscribe.