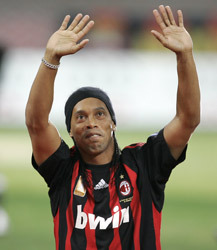 With 14 goals to his name, Dimitar Berbatov is favourite to land the Premier League golden boot this season
Blackburn have now confirmed that they are interested in signing former World Player of the Year Ronaldinho.
Ronaldinho, 30, appears set to leave Milan during the January window and travelled to Brazil at the weekend to negotiate with former club Gremio.
However, reports have suggested that Blackburn, now under the ownership of Indian company Venky's, are interested in signing the playeer, with agent Roberto de Assis claiming Rovers had been in contact.
Venky's denied the stories – "There is no interest at all," Venky's director Venkatesh Rao said – but the company's chairperson, Anuradha Desai, has contradicted the denial.
Desai told BBC Radio Lancashire: "He is keen to play in the EPL [English Premier League] and I think that goes in our favour."
She added that Blackburn were "open whenever he is ready to come". Venky's office in Brazil is negotiating with the player.
Desai added: "To be precise [it is] €7.6 million (£6.5 million) for the first year and about €8.5 million (£7.2 million) for the second and third years."
Blackburn have also expressed interest in signing David Beckham on loan from LA Galaxy.
Boss Steve Kean told the Lancashire Telegraph: "We are close to signing two, possibly three, although the third is the outsider.
"Hopefully talks can continue and, with someone like Beckham, someone will get a good player if he comes over here, and if he does come back to this country, he is someone we would be interested in."
With 14 goals to his name, Dimitar Berbatov is favourite to land the Premier League golden boot this season
Make sure you don't miss any of the last news and articles from World Soccer. Subscribe to World Soccer today and save up to 33%