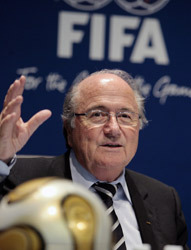 Euro 2012 betting podcast: The easyodds experts give their Wales v England tips…
FIFA President Sepp Blatter has warned that the risk of match-fixing was huge and called on governments to help stamp out illegal betting which was undermining the sport.
"The threat of match-fixing in sport is a major one," said Blatter in his opening speech at the Sports Funding, Sponsoring and Sports Betting Congress here.
"Match fixing shakes the very foundations of sport, namely fair play, respect and discipline. That's why FIFA employs a zero-tolerance policy when it comes to any infringement of these values.
"This conference will once again help to raise awareness of the problem and to ensure collaborative and comprehensive protection for the sport," said Blatter. "I'm convinced that football can survive and beat this plague."
He added: "Football's world governing body cannot take on the illegal gambling trade on its own and therefore requires the support of governments and their respective law enforcement divisions."
Blatter, 75, has been FIFA President for 13 years and will be bidding for a fourth term in June, with his challenger Asian football chief Mohamed bin Hammam.
Willi Lemke, Special Advisor to the United Nations Secretary-General on Sport, spoke about the importance of sport with regard to development and peace.
"Sport will lose its significance if match-fixing robs it of the core values which make it so popular and unique," he said. "It turns sport into an economic plaything."
"The threat of match-fixing is being taken very seriously and we have to use all the powers at our disposal to fight it."
The International Olympic Committee (IOC) believes match fixing is the biggest threat to world sport at present and estimates that around $140 billion of the annual $350 billion turnover in the gambling industry is achieved through illegal bets.
Euro 2012 betting podcast: The easyodds experts give their Wales v England tips…
Take advantage of the sales by saving up to 36% on a subscription to World Soccer