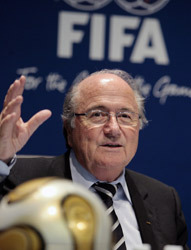 Sepp Blatter has secured a third term as Fifa president after standing unopposed for the post.
The 71-year-old was elected to office in June 1998 and is now expected to serve through to 2011.
Fifa had already confirmed that 66 member associations out of 207 from all six confederations had nominated Blatter.
"I accept this mandate and I thank you for your continuing trust in me," he told delegates from FIFA's 208 member associations who gave him a four-year term until 2011.
Blatter, the eighth president in Fifa's history, joined the organisation as technical director in 1975 and was general secretary from 1981 until 1998.
Earlier he told delegates that football was facing four evils that had to be addressed – doping, corruption, cheating and racism.
He also said that the growing trend of football-related matters being taken to civil courts had to end.
"We are strong enough ourselves to settle our own affairs," he said.
Blatter also confirmed that South Africa would host the 2010 World Cup finals.
"The World Cup is staying in Africa, there is absolutely no problem about this. It is staying in South Africa. Plan A is South Africa, Plan B is South Africa, Plan C is South Africa and Plan D is South Africa" he told delegates.