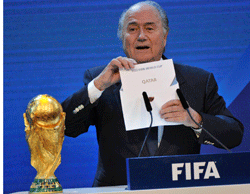 It's another busy weekend in the Premier League – see all the best betting on every match here
Sepp Blatter says is reluctant to make wholesale changes to FIFA's voting system, because there is no evidence that an alternative system would be more effective.
The FIFA president was speaking days after Günter Hirsch, an ethics committee official, resigned saying football's governing body had "no real interest in playing an active role in the resolution, pursuance and prevention of violations of its ethics code".
Blatter said he was not happy with Hirsch's remarks. He said the German lawyer had an opportunity to put forward suggestions while at FIFA but squandered the opportunity.
"He was there at the beginning of the ethics committee, he was not attending other meetings of the ethics committee, he was not making any comments on the ethic code," Blatter told CNN.
"He was asked to make comments in writing. He has not participated in the meetings we have had in connection with the 2010 voting process, so how [can] such a high-level legalist make such [a] declaration?"
Blatter was unconvinced by a recent survey in which 89% of respondents felt FIFA ought to change its voting system.
"Then this 90% of people, some of them should give us a proposal of how to do it better," he said.
Blatter ignored calls to change the system, under which FIFA's executive committee decides on the destination of the World Cup, by opening it up to member associations.
"It was the same [FIFA] congress that a few years ago, or many years ago, have decided we don't want to do it because it is too much responsibility, too high a responsibility for us," he said.
The FIFA president said there were no plans for an anti-corruption unit but he did want to create a body to help people believe in FIFA again and "give some credibility" to the governing body.
"I want to put together a sort of compliance group. People from outside of FIFA but being involved in politics, in culture, in economy, whatever, also in sport," added Blatter.
Allegations of corruption in the organisation were inacurate, according to the 74-year-old.
"We have 300 million active participants in the FIFA,"he continued. "Three hundred million. Football players, coaches, referees, members. And if out of them in the process there are two, three or four and they are alleged – alleged – corruption activities, then you cannot say that everything is corrupt in Fifa; it's not possible."
Blatter did admit there were structural problems with the body's executive committee.
"The government of FIFA, which is the executive committee, is not elected by the same entity that the president of FIFA is elected [by] – that's a problem.
"I am the only one elected by the congress and all the other members are elected by their confederations and that's why it is so difficult to manage my ministers. Really, it is difficult."
It's another busy weekend in the Premier League – see all the best betting on every match here
Take advantage of the January sales by saving up to 36% on a subscription to World Soccer