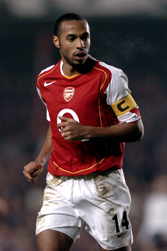 Fifa president Sepp Blatter has tipped Arsenal's Thierry Henry to be named World Player of the Year on Monday.
Henry has been shortlisted along with newly-crowned European Footballer of the Year, Milan's Andrii Shevchenko and Barcelona's Ronaldinho, who was voted World Player of the year by the readers of World Soccer.
Blatter said: "Henry, for me, is the personality on the field. He is the man who can run and organise the game."
The winner of the award will be unveiled tonight at a glittering ceremony at Zurich's Opera house.
Henry, runner-up to Real Madrid's France star Zinedine Zidane in 2003, scored 38 goals in all competitions last season, with 30 in the Premiership.
Voting changed this year. Now, 80 percent of votes come from national team coaches and national captains with the remaining 20 percent being decided by FIFA and Players' union Fifpro votes.