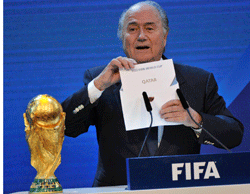 Blackpool v Man United: Simon Hopper has a 7/1 tip for tonight's match at Bloomfield Road…
The 2022 World Cup in Qatar could be held at the beginning of the year or the end of it, FIFA president Sepp Blatter has suggested.
"For FIFA, if there's the will to change something for the international calendar for one year, it's possible to do, because if there's a will, there's also a solution," the head of world football's governing body told reporters.
"But for now, there are the pros and cons but it is premature to make any decisions on what may happen but all I am saying is that winter is not only January and February, winter is also the end of the year."
Blatter has already come in for criticism from the World Cup hosts, Qatar, for suggesting that the 2022 finals could be moved to avoid the searing summer temperatures in the Gulf state.
Blackpool v Man United: Simon Hopper has a 7/1 tip for tonight's match at Bloomfield Road…
Take advantage of the January sales by saving up to 36% on a subscription to World Soccer