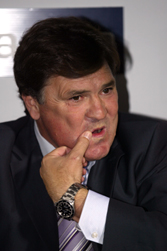 Real Madrid coach Jose Antonio Camacho is set to the club after their poor start to the season.
Spanish state radio said Camacho had told Real chairman Florentino Perez he was quitting and would resist attempts to persuade him to remain in charge.
Camacho accted after his side's 3-0 defeat at Bayer Leverkusen in the Champions League and their 1-0 defeat at Espanyol on Saturday night.
Perez said no decision on the coach's future would be taken until an emergency meeting on Monday.
"Everything will be decided at Monday's meeting at the Bernabeu," Perez told the Efe news agency.
On Saturday night, Camacho responded to Madrid's midweek defeat to Leverkusen by dropping Raul and David Beckham.
Madrid, who had two players sent off late on, lost anyway and Camacho admitted: "I didn't see us play any football."
The 49-year-old Camacho has only been in the post since taking over from Carlos Queiroz in May.