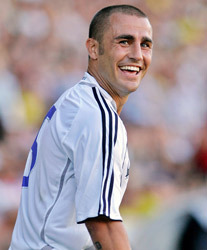 Fifa World Player of the Year and World Cup winner Fabio Cannavaro has turned down the chance to join Chelsea, according to his agent.
The Real Madrid defender, 33, has been linked with a move away from Madrid since Real dismissed coach Fabio Capello.
Cannavaro's agent Gaetano Fedele revealed that Chelsea made an offer "but we postponed everything due to Real Madrid's wish".
"New Madrid coach Bernd Schuster has said that Fabio is untouchable. It's highly unlikely that Fabio will leave Real Madrid at least this year."
Cannavaro joined Real from Juventus shortly after leading Italy to World Cup glory last summer.
"Fabio is in Madrid where he has adapted very well," said Fedele.
"They have won a championship and hence I don't think there is a possibility he will leave Madrid.
"Fabio's wish is to win the Champions League and the only team that can let him do that is Real Madrid."