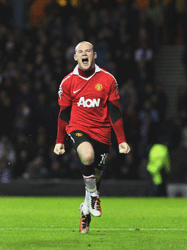 Wolves are now a best price 8/13 to be relegated after slipping to 20th following last night's results…
England coach Fabio Capello believes striker Wayne Rooney is now over the off-field issues and returning to his best.
Rooney endured a dip in form at the same time as his personal life was prompting front-page newspaper headlines.
That followed on from a World Cup where Rooney failed to produce anything like the sort of form he showed during the previous season with Manchester United.
However, Capello, who watched Rooney score twice in Tuesday's 3-1 win over Aston Villa, believes the player is nearing his best again.
"Rooney is a fantastic player," Capello is quoted as saying by the Daily Express. "I have to speak with him, but the movement and passing is now good. And his head is now okay."
Meanwhile, Rooney has praised team-mate Nani for his role in the 3-1 victory over Villa, in particularly his cross that gave Rooney a tap in for his second.
Rooney said: "That is something he can do really well and it would be great to see him do more of it. He has great dribbling skills but he is also a great crosser. If he mixes that up, he will be difficult to mark."
Wolves are now a best price 8/13 to be relegated after slipping to 20th following last night's results…
Take advantage of the sales by saving up to 36% on a subscription to World Soccer