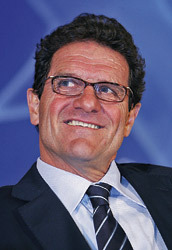 Spain are now a best price 7/2 for Euro 2012 following the latest round of qualification matches…
Fabio Capello is hoping his new-look England team can eventually emulate Germany who impressed at last year's World Cup finals with a young, exciting outfit.
Although Spain left South Africa with the World Cup trophy, Germany attracted plenty of plaudits for a team including youthful talents such as Mesut Ozil, Sami Khedira, Thomas Muller and Manuel Neuer.
England's team of established players, meanwhile, were criticised for the disappointing showing at the tournament. But Capello is confident a new generation is on its way.
"I hope that people will talk about us like they did about Germany," said Capello. "We have got some young players who are really good for the future. These players are improving a lot and playing with confidence."
Capello cited Ashley Young who has impressed in each of England's last three internationals.
"Last year Ashley Young played nearly always on the left wing and sometimes on the right," said Capello. "This year he changed position and improved a lot. Now he is a really important player because the movement between the lines is there."
Capello, who has come in for criticism since the World Cup failure, rounded on his critics, stating: "Respect for the people is really important."
Nonetheless, despite his anger at the treatment he has received in the press, the Italian remain happy in his current role.
"It is a really important squad and it will be difficult for me to select the players because the ones I had here were really good," he said.
"I don't know what will happen in the future. It is a long way to arrive at Euro 2012 and there are still a lot of points to play for. But at this moment I am relaxed. I like being here and we are in a good position."
Spain are now a best price 7/2 for Euro 2012 following the latest round of qualification matches…