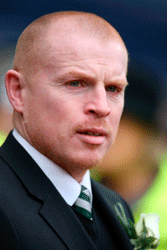 Tottenham v Arsenal: Simon Hopper offers his betting tips for tonight's crucial North London derby…
Parcel bombs have been sent to Celtic manager Neil Lennon and two high-profile fans of the Glasgow club.
The three devices, discovered at several locations in the west of Scotland over the past month, are considered dangerous, a senior police source confirmed.
Mr Lennon's lawyer, Paul McBride QC, and former deputy presiding officer of the Scottish Parliament, Trish Godman, were the other two people targeted.
It is understood all the devices were sent from within Scotland. Anti-terrorism branch officers were initially involved, but have ruled out loyalist terrorist involvement.
Ministers in the Scottish government secretly convened a cabinet sub-committee meeting on Saturday to discuss the discoveries. Meanwhile, news organisations agreed not to report the incidents to avoid prejudicing a police investigation.
Scotland's First Minister Alex Salmond said: "Let us be quite clear – there is a major police investigation under way to ensure that the individual or individuals concerned are identified and apprehended, and then brought to book with the full force of the law.
"We will not tolerate this sort of criminality in Scotland, and as an indication of the seriousness with which we view these developments the Cabinet sub-committee met last Saturday to ensure that the police investigation has every possible support to come to a successful conclusion."
The first suspect package was intercepted by the Royal Mail in Kirkintilloch, East Dunbartonshire, on 26 March and was addressed to Mr Lennon at Celtic's training ground in nearby Lennoxtown.
Two days later a device was delivered to Labour politician Ms Godman's constituency office in Bridge of Weir, Renfrewshire.
The third package was addressed to Mr McBride at the Faculty of Advocates in Edinburgh.
Detectives are also investigating another package addressed to Lennon which was found at a sorting office in Saltcoats, North Ayrshire, on 4 March but this has not been confirmed as an explosive device.
Tottenham v Arsenal: Simon Hopper offers his betting tips for tonight's crucial North London derby…