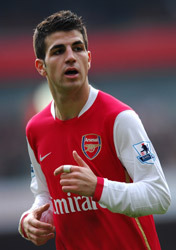 Cesc Fabregas has moved to dismiss speculation recent suggesting that he might move leave Arsenal in the summer.
The 22-year-old has often been linked with Real Madrid and Barcelona, and he is said to be one of Madrid's top targets should Florentino Perez be re-elected as club president this summer.
It is also thought that the midfielder is being eyed by his hometown club, Barcelona, whose youth ranks he was part of before joining Arsenal on a free transfer as a 16-year-old in 2003.
However, he has now insisted that he has no plans to leave the Emirates Stadium in the foreseeable future.
"How many times have I said this? My future belongs to Arsenal and I want to be at Arsenal," Fabregas is quoted as saying by The Daily Mail.
"I see my future here. I do not have to tell anyone to be relaxed or more confident that I am staying.
"My name has been linked with other clubs for four years, and I am still here. That should tell you something."
For more fascinating features, subscribe and save 30% and use the below link?