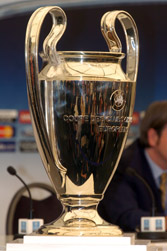 The eyes of Europe and indeed the footballing world will be on the Stade de France tonight, as Barcelona meet Arsenal in the Champions League final.
The game pits the tournament's best attack against its most miserly defence, with Barcelona's 12 games having brought 22 goals while Arsenal have conceded just twice in the competition.
Barcelona start the game as favourites although a quick glance at the history books shows that they have good reason to be wary of the threat posed by Arsenal.
The last time they were involved in such an eagerly-anticipated Champions League final was against Milan in 1994, and they lost 4-0.
Frank Rijkaard, who is bidding to become only the fifth man to claim the trophy as player and coach, is in relaxed mood, though.
"We're just happy to be here, history doesn't weigh heavily on us right now," he said on the eve of the game.
"All we can do is work hard to achieve good results and try to make the fans proud of us. No more, no less. Arsenal are a good team with great players and it's interesting to have two worthy opponents in the final."
Rijkaard may have Argentinina prodigy Lionel Messi available again after two months out with a thigh injury picked up during Barca's victory over Chelsea.
The Dutch coach has dismissed suggestions that Barca will be complacent tonight, having already seen off the team that finished the Premiership season 24 points ahead of tonight's opponents.
"A final is a unique occasion. Arsenal are a high-level team with lots of quality and I don't believe in psychological advantages. That's dangerous. Let's just show how we can play," said Rijkaard.
"Football is a serious game but the term 'game' means you should also try to enjoy it," he added. "There should be joy on the pitch. If you take it too seriously, it becomes a job. Team spirit, tactics and public perception are all important but you must find a balance between enjoyment and work."
Arsene Wenger, who during his time in charge of Arsenal has encouraged an open, attacking style of play, has shown this season that he is prepared to compromise those principles.
Much of the current campaign has seen Wenger adopt a pragmatic 4-5-1 system which affords more protection for his youthful back four, but also allows the Gunners to employ their swift, incisive counter-attacking to devastating effect.
Wenger seems less concerned by the way his side plays than by the result.
"Of course it would be fantastic if it was a classic but we are a little bit selfish and we want to win," admitted the Frenchman who has no injury concerns ahead of tonight's game.
"In a final, it's very important you can rely on a strong defence. It gives you the belief to exploit every opportunity you get."
"The belief in our team was diminished at the start of the season and we had to rebuild our confidence, but I always had belief in the team.
"That has been lonely at times but we have humility, hunger, strength, togetherness and of course talent. We have peaked at the right moment and want to finish the job."