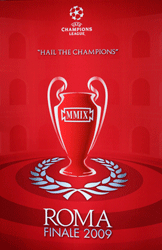 Holders, Man Utd, are attempting to become the first team to retain the Champions League trophy against Barcelona in Rome this Wednesday.
Champions League final: Barcelona v Manchester United, kick-off 19:45 (BST)
Barcelona and Manchester United are hoping to put on a stylish spectacle when they meet in the Champions League final in Rome.
The match has been dubbed "the dream final" by some, with two of Europe's most attacking teams facing each other at the Stadio Olimpico.
The newly crowned champions of England and Spain, meet with United aiming to become the first team in 19 years to successfully defend the European Cup and the first in the Champions League era. Having already lifted the Liga and Copa del Rey this month Barcelona have the chance to claim an unprecedented Spanish treble.
It promises to be one of the more exciting showpieces, with United boss Sir Alex Ferguson saying: "It has the capability to be a fantastic final."
United have never lost a European Cup final and Ferguson believes another success is essential for a club of United's stature.
"I've repeated many times we should have done better in Europe," he said. "To be in the pantheon of great teams, the prerequisite is to win this cup. It's an opportunity for us to go alongside a lot of the great teams. This team has that type of future – it's a young squad with the right type of experience which can do well in the next few years. Hopefully we can endorse that."
Ferguson welcomes back captain Rio Ferdinand from injury, although United will be without the suspended Darren Fletcher as they bid to become the first side since Milan in 1989 and 1990 to land back-to-back European Cups.
"We're good at doing things for the first time," Ferguson added. "It's interesting and unusual that no one has defended the trophy since the Champions League started, because in the history of the European Cup it was done regularly. We have an opportunity to change that and hopefully we can take it."
While the United boss is at the end of his 35th season as a manager, Josep Guardiola is finishing his first and, though two trophies are already in the bag, the 38-year-old has his sights set on the biggest prize of the lot.
"It's been a great season but it can still finish badly, there's a lot still to do," said Guardiola. "In football things can change very suddenly. I've been very lucky to have a squad of players who are very good tactically and technically. We want to show how good we are and how hard we've worked by winning tomorrow."
Both Barcelona's full-backs Daniel Alves and Eric Abidal are suspended and Rafael Marquez has a knee injury so Yaya Toure will drop back to central defence with captain Carles Puyol filling in at right-back, Seydou Keita on the left and 20-year-old Sergi Busquets replacing Keita in midfield.
Andrés Iniesta and Thierry Henry should be fit after thigh and knee problems respectively, with Guardiola adding: "If they're OK they will play – if they're not, they won't. I think they'll be there. I would have liked to have more players at my disposal but that's how it is. It's going to be a great final."
This will be the 10th meeting between Barcelona and Manchester United in European competition. United have won three times, Barcelona have won twice and there have been four draws.
The two clubs have previously played each other in a European final, Manchester United emerging 2-1 winners of the 1991 Cup Winners' Cup final.
Ferguson can become only the second person ever, after Bob Paisley, to win the European Cup three times as head coach. He can also equal Giovanni Trapattoni's record of five European trophies as head coach.
Guardiola, meanwhile, is the eighth person to reach the European Cup final in his first ever season as a head coach.
Holders, Man Utd, are attempting to become the first team to retain the Champions League trophy against Barcelona in Rome this Wednesday.
For more fascinating features, subscribe and save 30% and use the below link?