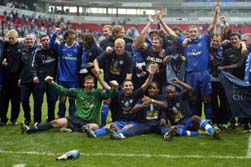 Chelsea manager Jose Mourinho was ecstatic after Chelsea's 2-0 win at Bolton clinched the club's first League title for 50 years.
He said: "Our group is a special group, they deserve this – nobody can say we don't deserve this. We were absolutely magnificent, the players and the fans.
"I want to stay with Chelsea as long as I can. My heart is with the club."
The last time Chelsea won the title was in 1955, and Mourinho was keen to stress to the supporters the importance of the success.
"The players deserve this more than anybody but I am very happy for the fans, especially those that have not seen a title win.
"The way we were champions was not easy. It is the mentality, ambition and desire. People coming from many different places.
"We met for the first time in July and from that moment we have built something special.
"When we have to fight, we fight, when we have to play, we play, when we have to suffer, we suffer, and always together."
Captain John Terry paid tribute to Mourinho's infl;uence since he arrived at Stamford Bridge last summer.
"The manager has been magnificent," said Terry. "I can not speak highly enough of him."
Mourinho was also keen to dispel any speculation that he had any intention of quitting Chelsea.
"I want to stay with Chelsea the maximum time I can, so maybe I have to stay for longer than my current contract," he said.
Mourinho also paid tribute to the club's owner, Roman Abramovich, who has spent over £200m on new players since buying the club two years ago.
"I think Roman deserves this title a lot," Mourinho added.