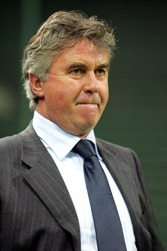 Are you a football fan? Answer a few footy questions and be in the running for a £50 Free Bet. Click here!
Chelsea have denied reports that Roman Abramovich is planning to appoint Guus Hiddink as the club's next manager.
Dutch newspaper De Pers reported this morning that Chelsea had held talks with Hiddink, and suggested he had already agreed to replace Avram Grant.
But Abramovich's office issued a statement dismissing the claims, and insisting that the Chelsea owner was keen to see Hiddink remain in charge of the Russian national side.
"Information that Mr Abramovich is preparing to, or already has, offered Guus Hiddink a management post at Chelsea is untrue," read the statement.
"On the contrary, Mr Abramovich is very pleased the Russian Football Union has offered to renew Mr Hiddink's contract until 2010. Thanks to Mr Hiddink the Russian national team has become more exciting and solid, giving hope for achieving serious success on both the European and international levels."
Earlier today Chelsea had confirmed Grant's intention to bolster his backroom staff. Grant is considering hiring a foreign assistant coach to work alongside Steve Clarke and there has been speculation that Ajax coach Henk ten Cate is the person being lined up.
Earlier the Chelsea released a statement which read: "Chelsea first-team coach Avram Grant has made it publicly clear several times that he intends to strengthen his backroom team in addition to his assistant coach Steve Clarke.
One of the scenarios Avram is considering is a team containing a British assistant coach in Steve and a foreign assistant coach, a system the first team are already familiar with."
Hiddink, meanwhile, has always been been quick to play down suggestions that he is heading for Stamford Bridge and only last week was quoted as saying he had told Abramovich he wanted to focus on getting the national team to the Euro 2008 finals.
Are you a football fan? Answer a few footy questions and be in the running for a £50 Free Bet. Click here!